Kirjeldus
Selge 7-tollise ekraaniga veoauto GPS navi dēzlCam™ 785 LMT-D on suurepärane teekaaslane veoautojuhtidele, kes soovivad suure ekraaniga navi. Lisaks kõikidele funktsioonidele on seadmel ka sisseehitatud pardakaamera, et salvestada oma sõitu ning salvestada videopilti intsidentidest.
Sisseehitatud pardakaamera
dēzlCam™ 785 LMT-D alustab salvestamist HD kvaliteediga nii pea, kui alustad sõitmist. Kokkupõrke korral salvestab G-sensor automaatselt õnnetuse videopildi. Samuti on võimalik videomaterjali salvestada vaid nupuvajutusega. Seade on lihtsasti eemaldatav magnethoidiku küljest, juhuks kui on tarvis pildistada õnnetuse tagajärgi. Valikuline GPS ülekate kuvab asukohta, kiirust, kuupäeva ja kellaaega, et täpselt salvestada, kus intsident juhtus.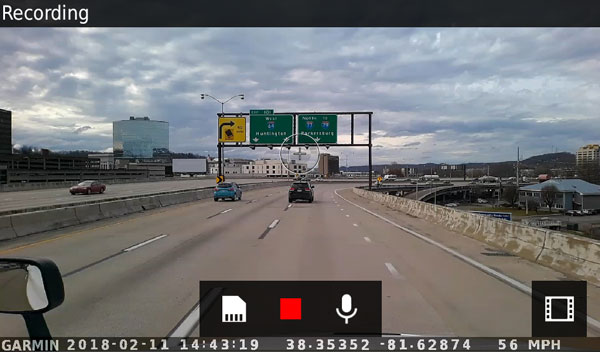 Camera-enabled Alerting
In addition to recording, the dash cam also enables advanced driver assistance features such as forward collision and lane departure warnings¹. Forward collision warnings alert when you are driving too closely to the vehicle ahead, and lane departure warnings are provided if you drift off-road or cross lanes into oncoming traffic.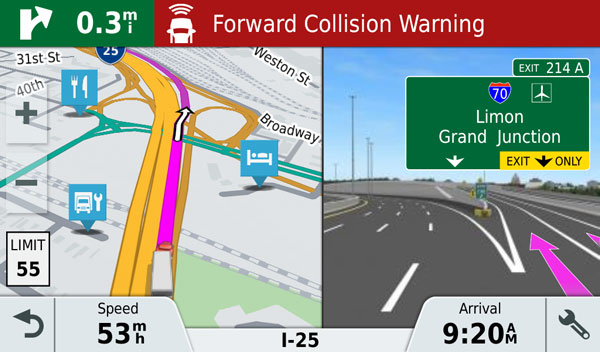 Customized Truck Routing
Along with its camera-enabled features, the dēzlCam 785 LMT-S truck navigator also includes preloaded maps that detail truck-related route warnings — such as bridge heights, sharp curves, steep grades and more — for most major roads and highways. Simply enter your vehicle profile information (customizable by height, weight, length, width and hazardous materials) to find truck-preferred routes suitable for the size and weight of your truck².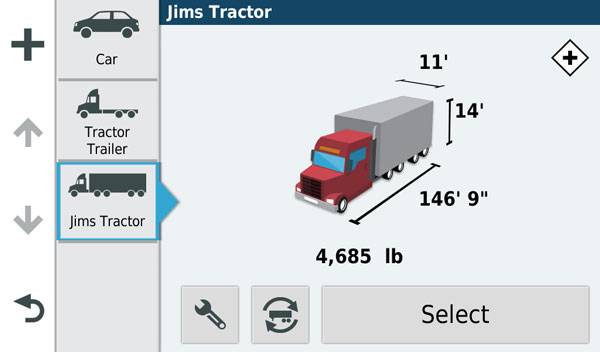 For added convenience, the Simple Truck Profile lets you easily swap trailer sizes with the touch of a button.
Free Live Services
To see what's happening on the road ahead, our free Smartphone Link mobile app lets you connect your dēzlCam 785 LMT-S with your iPhone® or Android™ smartphone. When paired, your dēzlCam can access real-time information² such as traffic and weather information.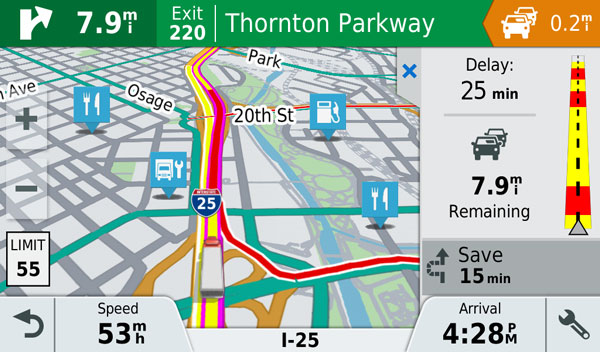 Command with Your Voice
The convenience of voice-activated navigation lets you control your dēzlCam 785 LMT-S truck navigator with simple voice commands, so your hands can stay on the wheel — while your eyes remain safely focused on the road.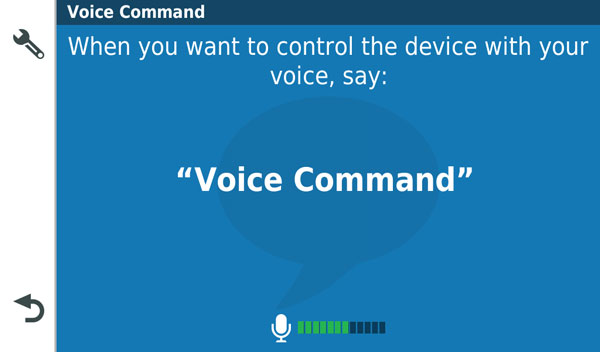 Built-in Wi-Fi Keeps You up to Date
It's easy to keep your maps and software up to date because dēzlCam 785 LMT-S features built-in Wi-Fi. When a new update is available and you're connected to a Wi-Fi network, you'll automatically receive an on-screen notification. Then, you simply use the Wi-Fi on-screen button to update your data without needing to plug your dēzlCam into a computer. You'll be ready to hit the road again in no time.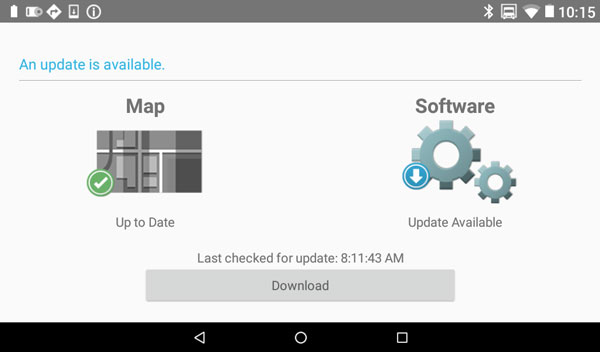 The Benefits of Bluetooth
Sync a Bluetooth-enabled smartphone or tablet to dēzlCam 785 LMT-S for wireless calling through its integrated microphone and speaker. Stow your phone in your pocket or console, and enjoy the benefit of hands-free calling without diverting your attention from the road. You can also receive customizable smart notifications³ for calls, texts, app alerts and more, which appear right on your navigation display.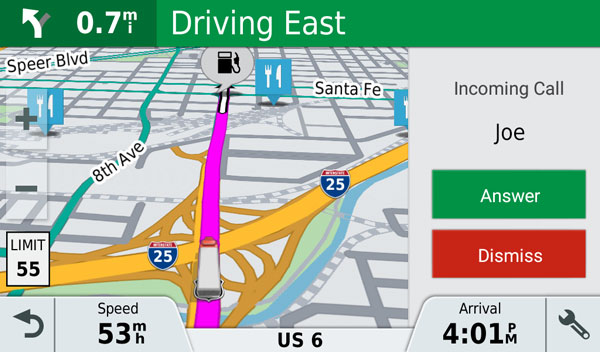 Works with Garmin eLog Compliant ELD
dēzlCam 785 LMT-S is also compatible with the subscription-free Garmin eLog™ compliant ELD(sold separately), which automatically tracks and records Hours of Service4 (HOS). You can easily view remaining hours, duty status and more right on your navigator's display — with no smartphone or tablet needed.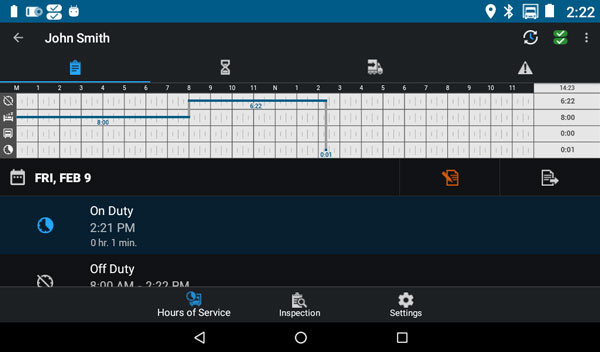 Easy Break Planning
To simplify life on the road, dēzlCam 785 LMT-S provides easy break planning with timely notifications that help make the most of each stop. Locate points of interest that professional truckers care about — such as food, fuel, rest areas, showers, lodging, ATMs, Wi-Fi and more. Need to park it somewhere? dēzlCam 785 LMT-S is also equipped with truck parking data that helps you find available 18-wheeler parking spaces at truck stops and rest stops.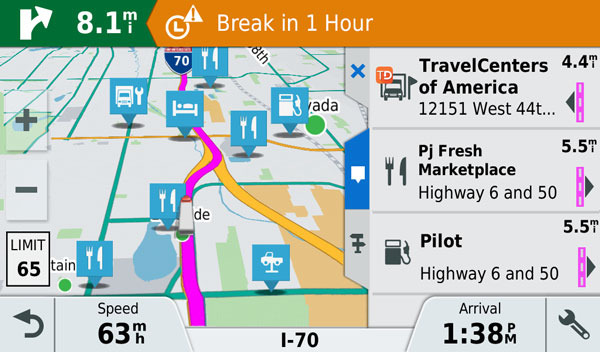 Find a Service Facility
If the unexpected happens, the dēzlCam navigator's Truck & Trailer Services directory lists more than 30,000 truck repair and service locations in the U.S. and Canada, including those offering after-hours road service. dēzlCam 785 LMT-S also has an included Service History Log so you can record the dates and type of service performed. Conveniently keep track of tire mileage, tire pressure, oil changes, tire changes and more.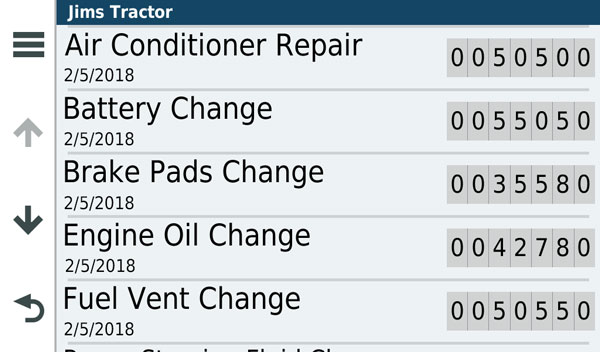 Dispetšer ja jälgimissüsteem
dēzlCam™ 785 seadmele on eelnevalt paigaldatud lihtne veoauto jälgimise süsteem, mis laseb dispetšeritel jälgida juhte, ning saata näiteks sõnumiga tarneaadress. Juht saab aadressi valida tekstisõnumist ning sujuvalt marsruutida vajalikku sihtpunkti.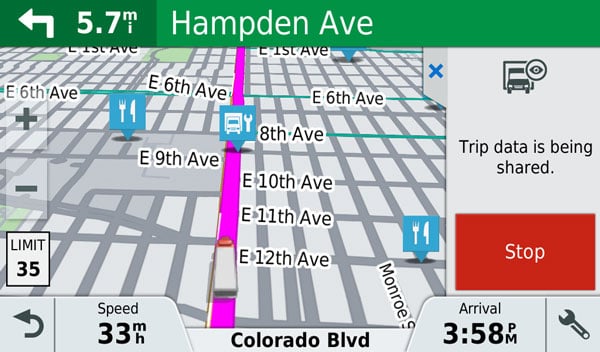 Juhtmevaba tagurduskaamera
Näe ka tagurdades oma veoauto taha kasutades Garmini tagurduskaamerat (müüakse eraldi).
dēzlCam™ 785 ühildub Garmin BC™ 35 juhtmevaba tagurduskaameraga. Peale ühendamist näitab dēzlCam kaamerapilti otse navi ekraanilt.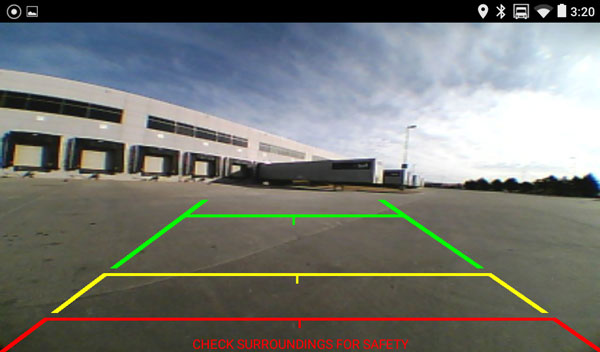 Navigate with Ease
The navigator includes detailed maps of North America5, millions of Foursquare® POIs and new TripAdvisor® ratings for restaurants, hotels, and attractions along a route or near a destination. In addition to its detailed mapping and big screen that can be easily seen across your cab, dēzlCam 785 LMT-S comes equipped with extra-powerful speakers that deliver spoken turn-by-turn directions you can hear loud and clear, even over road noise.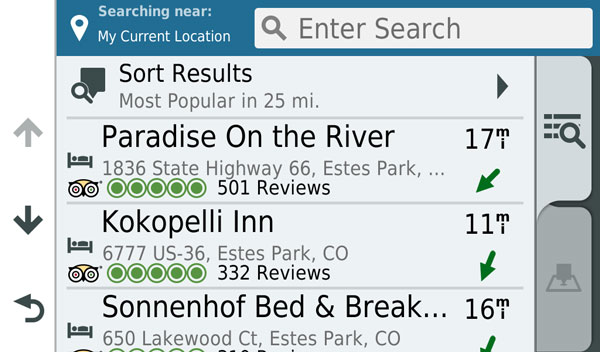 An onboard Trip Planner lets you create multiple-stop routes and plan and save future trips. Plus, the dēzlCam Up Ahead feature lets you preview places of interest and milestones along your route, without leaving the map view on your navigation display. There's also Easy Route Shaping, which lets you add a point on the map just by touching the screen, so you can adjust your route to include preferred roads, cities or locations
As you drive, Active Lane Guidance provides voice prompts and brightly colored arrows on the display to indicate the proper lane needed for your next turn or exit. Full color photoReal junction view displays realistic graphics of upcoming exits to ease navigation through complex interchanges. Plus, Bird's Eye junction view offers a detailed view of interchanges, looking down as if from overhead. The dēzlCam navigation screen also displays your current speed, the posted speed limit, the highway or street you're driving on and your expected arrival time at your destination.
1Certain conditions may impair the warning function; visit Garmin.com/warnings for details
2Not available in all areas. Entering your truck's profile characteristics does not guarantee your truck's characteristics will be accounted for in all route suggestions. Always defer to all posted road signs and road conditions.
3To access Garmin Live Services, you must download the Smartphone Link app to your compatible Bluetooth® and GPS-enabled smartphone (sold separately)
4Requires Bluetooth®-enabled smartphone (sold separately)
5Map coverage includes preloaded street maps for the U.S., Mexico, Canada, Puerto Rico, U.S. Virgin Islands, Cayman Islands and Bahamas
The Bluetooth word mark and logos are registered trademarks owned by Bluetooth SIG, Inc. and any use of such marks by Garmin is under license. Wi-Fi® is a registered trademark of the Wi-Fi Alliance. iPhone is a trademark of Apple Inc., registered in the U.S. and other countries. Android™ is a trademark of Google Inc. © 2017 HERE. Foursquare® is a registered trademark of Foursquare Labs, Inc. ©2018 TripAdvisor LLC. All rights reserved.