Kirjeldus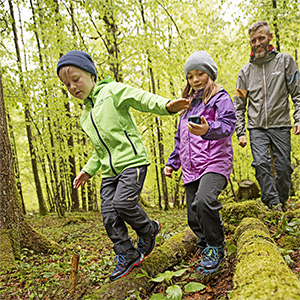 Garmin family navigator that's easy and fun to use, with touchscreen and preloaded TopoActive Europe maps
Optimised for multiple activities – just select and go!
Preloaded with Garmin TopoActive Europe maps
Cycling mount included
Bright 2.6'' colour capacitive touchscreen
3-axis tilt-compensated compass
Download recreational tracks and routes to follow
Paperless geocaching with 250k preloaded caches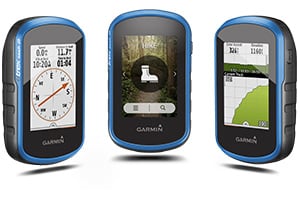 Find your way the easy way
eTrex Touch works like an in-car sat nav, but with maps and features specifically designed for navigation during recreational activities like cycling and hiking. Whether you have a specific destination in mind, or you just want to record your activities to share later on, eTrex Touch gives you the freedom to explore with confidence. You can even find and download activities others have completed on Garmin Connect and Garmin Adventures, or share your own with the community.
With an easy to use touchscreen, the kids will be able to have a go too. Just touch and go, as the moment takes you! The Activity Profiles give you immediate access to customised profiles like hiking, cycling and geocaching, so you're all set up for your chosen activity, with everything you need at your fingertips. You can focus on enjoying the great outdoors, and having a great time with your family – knowing you're in safe hands.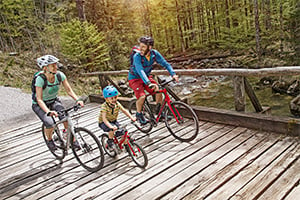 All ready and set to ride
eTrex Touch holds no one back, it's everything you need to get out there and experience the outdoors at every opportunity. Not only is it designed to enhance whatever activity you fancy that day but it comes fully prepared for you to take it straight out the box and get going.
With a cycling mount included, the eTrex Touch is particularly appealing to recreational cyclists, who can easily fix the device to their handlebars.
The device comes preloaded with Garmin TopoActive Europe maps for 46 countries – just switch the device on, connect to GPS and start navigating. And the maps can be updated at no additional cost. With a large 8 GB internal memory and a microSD slot, there's plenty of room for additional mapping, whether you'd like to enhance it with advanced topo maps or marine maps.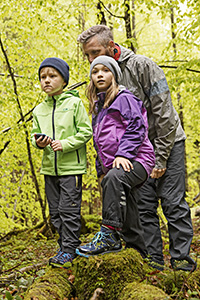 Dive into geocaching
Experience the great outdoor GPS treasure hunt called geocaching. With the eTrex Touch, geocaching is convenient for everyone, with paperless geocache directions, ratings and recent logs saved directly on the device – no need to print anything.
eTrex 25 comes with an electronic compass that shows you the direction to your destination even while you're stood still – which helps a lot during short breaks on geocaching adventures.
For beginners, eTrex Touch holds 250,000 great geocaches suitable for those new to geocaching – to help you get used to the whole concept. All geocaches are from geocaching.com, the world's largest geocaching platform.
Learn more about Geocaching with a Garmin eTrex Touch.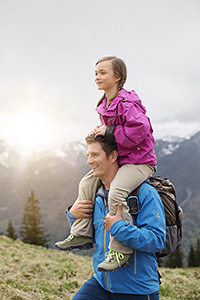 Adventures unearthed and shared
Don't have a specific destination or route in mind? Search for recommended adventures on Garmin Connect or Garmin Adventures, and see routes and geocaches that others have completed. Then download them to eTrex Touch ready for your next adventure. Or create and customise a completely new route to download to your device.
Want to save and re-live a recent adventure? eTrex Touch records where you've been so you can upload your routes to Garmin Connect or Garmin Adventures and relive them whenever you want. Garmin Connect and Garmin Adventures are free and allow you to share your recreational adventures with friends and family.
eTrex quality DNA
eTrex Touch is the latest product from the famous eTrex GPS handheld series. These products have been successfully deployed all over the earth, from the freezing poles to the heat of African deserts and the humid South American jungles. eTrex has mastered all terrains and the eTrex Touch offers that same toughness and endurance.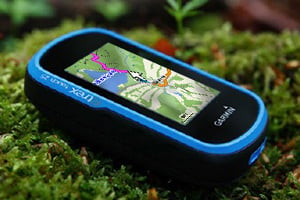 eTrex Touch supports GPS and GLONASS, giving you the power of two satellite systems, for faster fix and better accuracy in challenging environments. Let eTrex do all the hard work for you – just check your actual position and follow the guidance.
The device is fully ruggedised and IPX7 water-rated and has a scratch-resistant screen. The long 16 hour battery life and field-replaceable standard AA batteries guarantee flexibility when you're on the go.
eTrex Touch also provides all of the classic eTrex features like hunting and fishing information, sport watch, sun and moon calendar, sunrise and sunset data and much more.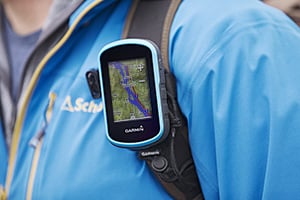 Compact and versatile companion
The handy device fits easily into a pocket or on a handlebar. It's also designed to be a size that allows kids to easily handle it too. Using the spine mount mounting system, eTrex Touch can be mounted pretty much anywhere with specialised mounts for boats, cars, backpacks etc.