Kirjeldus
Garmin Dēzl™ 580 LMT-D on tehtud elukutselistele autojuhtidele ja see arvutab veoautodele ettenähtud teekonna koos teekonna hoiatuste ja puhkeaja korraldustega.
Easy-to-use GPS Truck Navigator
5.0″ truck sat nav with maps of Europe, plus free lifetime map updates1. Also includes free live traffic via DAB or Smartphone Link and Live Services with the free Smartphone Link app2
Customised truck routing3 for the size, load and weight of your truck, plus alerts for upcoming bridge heights, weight limits, sharp curves, steep grades and more
Easy Break Planning with timely notifications for breaks, plus Up Ahead road signs to suggest nearby restaurants, rest areas, fuel and lodging
Truck Specific Points of Interest; filter truck stops by amenities such as "Café" or "Showers"
Control dēzl with your voice, and enjoy Bluetooth® hands-free calling5 and built-in Wi-Fi® for easy map and software updates without a computer
Dispatch and Track allows dispatchers to easily text messages and addresses to their drivers and even track drivers' routes from beginning to end
If driving is your business, trust Garmin navigation for the long haul. The dēzl™ 580 LMT-D truck sat nav is designed for the professional driver with customised truck routing3 featuring predictive route warnings and Truck specific Points of Interest, plus easy break planning with timely notifications.
Veoautodele kohandatud teekonnad
dēzl 580 LMT-D sisaldab üksikasjalikke Euroopa kaarte,millel on veoautode piirangud,nagu silla kõrgused,ohtlikud kurvid,koormuse piirangud ja muud olulised andmed suuremate teede kohta.  Määra vaid auto andmed (kõrgus,kaal,pikkus,laius ja koorma tüüp (ohtlik jne)) ja võid otsida sobivat teekonda3.
Lihtsas veoauto profiilis võid muuta treileri andmeid mõne sõrmeliigutusega.Sõiduplaneerimise menüüs võid luua mitmete peatustega teekondasid ja planeerida ning salvestada uusi sõitusid.
Võid teekonda muuta lihtsalt ekraani puudutusega lisades soovitud teed või puudutades linna.
Customised Truck Routing
dēzl 580 LMT-D has detailed maps for Europe that include truck-related restrictions – like bridge heights, dangerous curves, weight limits and more – and related information for most major roads and motorways. Just enter your vehicle profile information (customisable by height, weight, length, width and hazardous materials) and find truck-preferred routes suitable for the size, load and weight of your vehicle3.
Simple Truck Profile lets you easily swap trailer sizes with the touch of a button. The onboard Trip Planner lets you create multiple-stop routes and plan and save future trips.
Easy Route Shaping lets you easily change your route to include preferred roads or cities, just by touching the screen.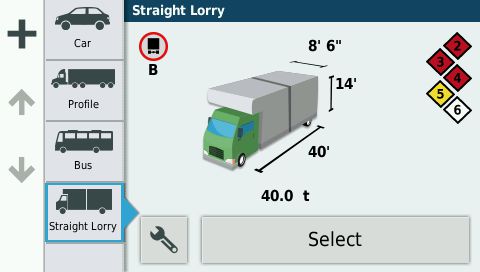 Easy Break Planning
To simplify life on the road, dēzl 580 LMT-D provides easy break planning with timely notifications for breaks and suggestions for nearby hotels, restaurants and parking.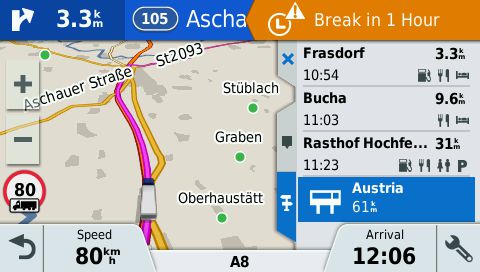 Veoautodele sobivate kohtade otsing
Otsi elukutselistele autojuhtidele kasulikke kohtasid,nagu veoautoparklad,parkimispaigad,öömaja ja Wi-Fi-võrgud.Samuti võid valida parklaid pakutavate teenuste alusel (pesemis võimalused, töökojad,Wi-Fi, veoauto pesulad).
Built-in Directory of Truck Specific Points of Interest
Locate points of interest that professional drivers care about and have given high ratings, including truck stops, parking, lodging, Wi-Fi® and more. You can even search and filter truck stops by your preferred amenities, such as showers, fuel stations, Wi-Fi and truck wash.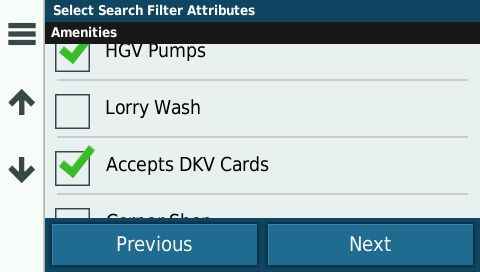 Bluetooth® Compatible
Sync a Bluetooth-enabled device, such as your smartphone, to dēzl 580 LMT-D for hands-free calling4 through its integrated microphone and extra-loud speakers that are easy to hear even over loud road noise. Keep your phone in your pocket or console and still make and take calls. When paired with your phone, text messages and other app alerts show right on your dēzl display.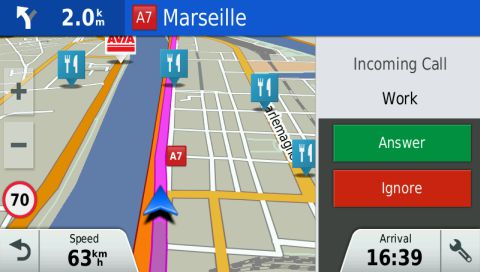 Command with the Power of Your Voice
dēzl 580 LMT-D is equipped with voice-activated navigation – just talk to your sat nav and it responds while your hands remain on the steering wheel.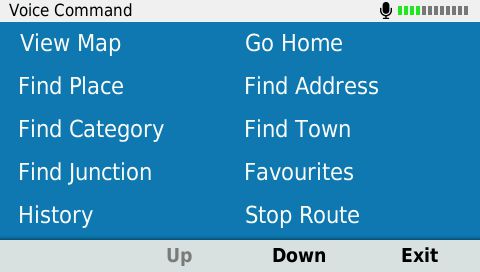 Pair with Your Smartphone for Live Traffic, Live Safety Cameras and More
Smartphone Link is a free mobile app that connects your dēzl 580 LMT-D with your iPhone® or Android™ smartphone. When paired, your dēzl can access real-time information2 such as traffic and weather information.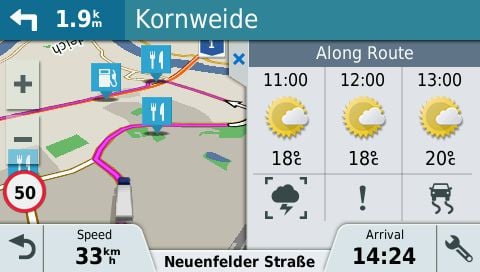 Built-in Wi-Fi® Keeps You Up to Date
It's easy to keep your maps and software up to date because the dēzl 580 LMT-D features built-in Wi-Fi. When a new update is available and you're connected to a Wi-Fi network, you'll automatically receive an onscreen notification. That's your cue to plug your device into any outlet and let it update over Wi-Fi while it charges. Then you'll be ready to hit the road again.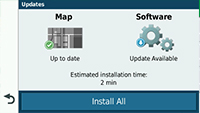 Dispatch and Track
dēzl 580 LMT-D comes preloaded with a simple truck monitoring solution2. Easily track drivers and send text messages with delivery address. The driver can select the address from the text message and seamlessly route to the destination. From the menu in the dēzl sat nav, select the Dispatch and Track icon to set up.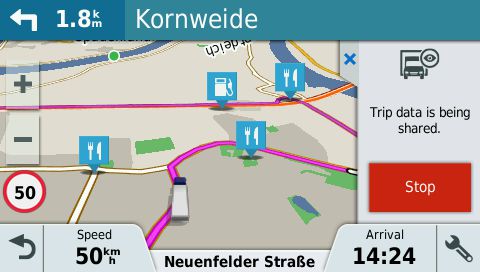 Service History Log
dēzl 580 LMT-D includes a Service History Log so you can record the dates and type of service performed. Conveniently keep track of tyre mileage, tyre pressure, oil changes, tyre changes and more.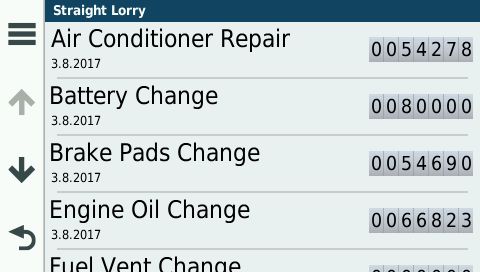 Works with Backup Camera
See what's behind your vehicle as you move in reverse by adding a Garmin backup camera (sold separately). dēzl 580 LMT-D is compatible with selected Garmin wireless backup cameras. When paired, dēzl shows transmitted footage, right on its navigation display.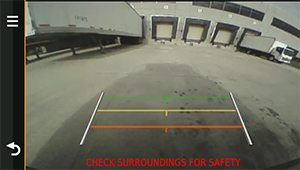 Navigate with Ease
dēzl 580 LMT-D has Active Lane Guidance (ALG) which uses voice prompts and brightly coloured arrows to indicate the proper lane needed for your route. photoReal junction view shows exits as they appear in real-life: in full colour and great detail. Bird's Eye junction view offers a detailed view of junctions, looking down from overhead. Additionally, Spoken Garmin Real Directions™ guide like a friend, using recognisable landmarks, buildings and traffic lights, rather than hard-to-see or non-existent street signs.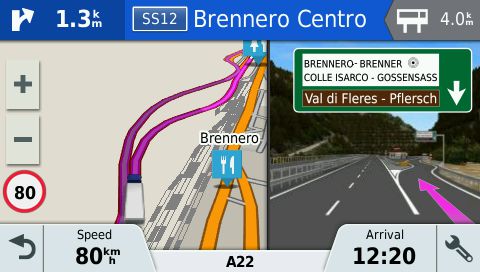 Includes Lifetime Map Updates
dēzl 580 LMT-D arrives loaded with detailed maps of Europe. With free lifetime1 map updates, your routes are sure to reflect the most up-to-date maps, POIs and navigation information available. New maps are available for download for the useful life of your GPS device, with no fees.
Preloaded with Popular Points of Interest
When you're not familiar with the area, rely on the preloaded TripAdvisor® points of interest. View ratings for travel points of interest, such as hotels, restaurants and attractions, along your route or near your destination. From the world's largest travel site directly to you, we're helping you find the stops that make the entire journey part of the destination. Also locate new attractions with the built-in Trip Planner tool, which can add some fun to road trips by suggesting interesting stops along the way.
Our POI database includes additional search information sourced from Foursquare®. Foursquare adds millions more new and popular restaurants, shops, services and more in your area.
1Lifetime Maps Terms and Conditions
2To access Garmin Live Services, you must download the Smartphone Link app to your compatible Bluetooth® and GPS-enabled smartphone (sold separately); see Smartphone Link for details
3Not available in all areas. Entering your truck's profile characteristics does not guarantee your truck's characteristics will be accounted for in all route suggestions. Always defer to all posted road signs and road conditions
4Requires Bluetooth®-enabled smartphone, sold separately
Apple® is a trademark of Apple Inc., registered in the U.S. and other countries. Android™ is a trademark of Google Inc. Foursquare® is a registered trademark of Foursquare Labs, Inc. The Bluetooth® word mark and logos are owned by the Bluetooth SIG, Inc. and any use of such marks by Garmin is under license. © 2017 TripAdvisor LLC. All rights reserved. Wi-Fi is a registered trademark of the Wi-Fi Alliance.